Obagi Skin Care System – Vancouver – Dr. Adrian Lee

As one of the highly trained Vancouver cosmetic surgeons, Dr. Lee is proud to offer his patients the Obagi skin care system to help them reduce the effects of aging and other skin conditions for his Vancouver patients. Please read the information below to learn more about this procedure.
What is the Obagi® Nu-Derm System?
If you are seeking to diminish fine lines and wrinkles, or reduce age spots and/or hyperpigmentation, the Obagi® Nu-Derm System may be of interest to you. Skin is made up of millions of cells and is the largest organ in the body. As we age, the process of replacing old cells slows down. The Obagi® Nu-Derm System helps correct the functions and health of your skin.
The Obagi® Nu-Derm System is comprised of several leading-edge skin care products that work together to fight signs of aging and reveal healthy, beautiful skin. This state-of-the-art system can be used to reduce signs of aging as well as protect the skin against damage, including:
Age spots
Wrinkles and fine lines
Rough skin
Skin laxity
Skin redness (erythema)
Sallow complexion
Discoloration (hyperpigmentation)
What is Involved?
The Obagi® Nu-Derm product line is a physician-prescribed skin care system that is used twice daily.
Your skin will undertake four phases of transformation:
The Obagi® skin care products will flake off all of the old, dead skin cells.
The Obagi® skin care products will then help your skin begin to develop new, healthy cells.
Your skin will then begin to appear smooth, hydrated, evenly colored and radiate a healthy glow.
Continue using the Obagi® skin care products to ensure a daily health care routine.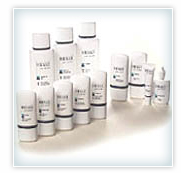 The Obagi® Nu-Derm System is designed to be used at a specific dosage and frequency for optimal outcomes. For maximum and fast-achieving results, Obagi® Nu-Derm System should be obtained following a comprehensive consultation and follow up appointments with Dr. Lee's skin care treatment patient coordinators.
Contact us today at (604) 582-2762 to schedule your skin care consultation.
Visit our plastic/cosmetic surgery office in Surrey, British Columbia (BC) near the Vancouver (Canada) area.

The Obagi skin care system is not the only non-surgical cosmetic treatment Dr. Lee offers. He also assists his patients with acne-related conditions through the
Obagi CLENZIderm
M.D. system. His Vancouver facial rejuvenation patients also visit his practice to obtain
Obagi® ELASTIderm
,
Botox
,
Juvederm
,
Restylane
and
Jane Iredale makeup
. Recognized as a leading facial rejuvenation expert, Dr. Lee is a highly sought-after
Latisse Vancouver
provider many patients visit to achieve longer, thicker and better-looking eyelashes.