Tummy Tuck in Vancouver, BC
Posted on January 10, 2019 by Dr. Adrian Lee
What is a Tummy Tuck?
Tummy tuck, also known as abdominoplasty, is a cosmetic procedure performed to flatten and tone the abdominal area. Due to aging or significant weight loss, you may have excess fat and sagging skin around the stomach area. These conditions may persist despite proper diet and exercise, and can make the abdomen appear disproportionate with the rest of the body. A tummy tuck removes this excess drooping skin to leave you with a tighter, toned tummy.
Numerous patients in the Vancouver BC area have enjoyed the benefits of a tummy tuck performed by skilled plastic surgeon Dr. Adrian Lee at his leading-edge cosmetic facility.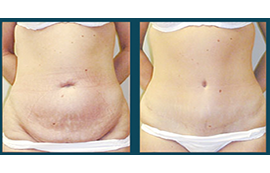 See the results of my real patients who have undergone abdominoplasty in the tummy tuck before and after gallery.