Non-Surgical Cosmetic Procedures in Vancouver
Dr. Adrian Lee
Dr. Adrian Lee and Sharon Vandecasteyen, R.N., work with individuals who desire anti-aging facial rejuvenation treatment but do not need, or want, to undergo surgery. For these patients, Dr. Lee and Sharon usually recommend non-surgical options to smooth wrinkles, fill in lines and add youthful-looking volume to the face.
When injected into strategic points around the face, Botox relaxes the muscles that cause wrinkles and lines. The results of Botox usually last about three to four months. Repeat treatments are recommended to maintain results.
Restylane another brand of dermal filler that can be used to smooth wrinkles and folds and enhance the lips.
Juvéderm is an injectable dermal filler that adds healthy volume to the cheeks, lips, smile lines and jawline. The results can last one to two years or more.
Selphyl separates a small amount of the patient's blood resulting in a platelet-rich plasma that accelerates the regeneration of soft tissue. It can be used to treat acne scars, skin depressions, crow's feet and other areas of uneven texture in the skin. Areas commonly treated are under eyes, around the mouth, neck, chest and hands.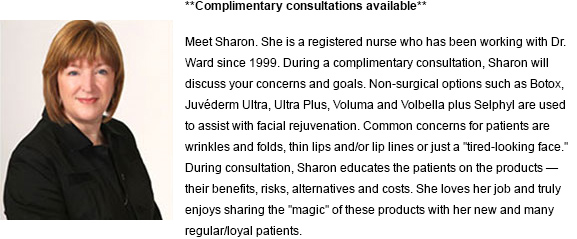 If you would like to meet with Sharon for your free consultation, please call the office at 604-582-2762.
Full bio located here.
If you would like to meet with Sharon, please call the office at 604-582-2762.
Other Non-Surgical Treatment Options
In addition to the non-surgical options listed above, Dr. Lee also offers the following topical skin care options:
Learn More about Non-Surgical Facial Rejuvenation
To learn more about any of the products or treatments listed — or to schedule a consultation with Dr. Lee or our Clinical Nurse Specialist, Sharon Vandecasteyen, R.N. — please call (604) 582-2762.