Buccal Fat Pad Removal – Vancouver Plastic Surgeon
Dr. Adrian Lee
Dr. Adrian Lee is a premier Vancouver plastic surgery provider, performing a range of facial beautification procedures, including cheek reduction surgery, also known as Buccal fat pad removal. To learn more about this procedure, please read the paragraphs below.
What is buccal fat pad removal?
Buccal fat pad removal surgery is for cosmetic surgery patients who have round, chubby cheeks and wish to achieve a more chiseled look. Round cheeks are usually hereditary but can also be caused by excess weight. Buccal fat pad removal surgery is fairly simple, and once the fat pads are excised through incisions in the mouth, patients achieve a slimmer face and more pronounced cheek bones. It is important to note that aesthetic benefits of fat pad removal surgery are very subtle and realistic expectations are very important.
What is Involved?
Buccal fat pad removal is performed under general anesthesia.
To perform the procedure, Dr. Lee makes a small intraoral incision on the inside of each cheek.
He then applies slight pressure to the area, causing the fat pad to protrude.
Surgical tweezers are then used to extract the excess fat (usually the size of a golf ball).
The incisions are closed with dissolvable sutures.
What is the Healing Time?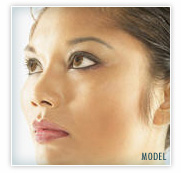 Immediately after surgery, patients will experience mild discomfort and swelling, which subsides within a few days.
Dr. Lee will give you the proper medications, aftercare instructions, and will ask you to keep your head elevated while sleeping.
Most patients are able to return to work within five to seven days or sooner.
Physical exercise should be avoided for six weeks.
Final results become visible within three months once all the swelling has subsided.
Impeccable oral hygiene is very important in keeping the intraoral incisions clean and free of infection.
Smoking can be very dangerous to intraoral wounds and all patients will be asked to quit smoking prior to and after the procedure until completely healed.
Contact us today at (604) 582-2762 to schedule your cheek reduction consultation with Dr. Adrian Lee.
Visit our plastic/cosmetic surgery office in Surrey, British Columbia (BC) near the Vancouver (Canada) area.