Vancouver Vaser® Liposuction Specialist
Dr. Adrian Lee
Dr. Adrian Lee is a highly regarded Vancouver plastic surgeon who specializes in advanced body contouring procedures, including Vaser® liposuction. Patients throughout Canada travel to Vancouver to seek the unsurpassed services of Dr. Lee. He encourages patients read the following paragraphs to learn more about the Vaser® liposuction procedure, as well as view the liposuction gallery to see the remarkable results of some of his previous patients.
What is Vaser® Liposuction?
Vaser® liposuction is an advanced body contouring procedure that utilizes ultrasound technology to treat targeted areas of fat. Unlike traditional liposuction, Vaser® liposuction does not damage important tissues, like nerves, blood vessels and connective tissues, while extracting fat. This unique capability helps patients experience minimal pain and recover at a more rapid rate than traditional liposuction.
The high definition Vaser® liposuction procedure is reserved for patients who are in good health, but struggle with excess fat around certain body parts, like the arms, stomachs, abdomen, back, hips, chest, buttocks or thighs. Vaser® liposuction sculpts the body to remove superficial and deep fat around muscle groups to reveal more muscular definition and athletic-looking bodies. Dr. Lee urges patients to receive Vaser® liposuction for sculpting purposes only, and not for the removal of large pockets of body fat.
What is Involved?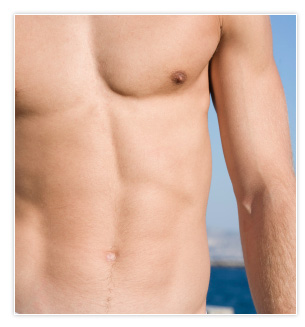 Vaser® liposuction is performed within Dr. Lee's state-of-the-art surgical facility. The procedure is performed under a general anesthesia.
During the procedure, Dr. Lee creates small incisions along the folds of the body that are easily hidden. Then, he fills the treatment area with a saline solution before breaking up fatty deposits with ultrasound technology. Last, the fat is removed through a gentle suction wand.
What is the Healing Time?
Patients return home after surgery. They are required to wear a compression garment for a few days to a couple weeks, depending on the extent of the procedure.
Dr. Lee prescribes oral medication for pain management.
Patients may shower within 24 – 48 hours.
Any sutures a patient receives are absorbable.
Patients may experience bruising and swelling, which will subside in 7 – 10 days.
Slight swelling may last a few weeks or months.
The final results of liposuction are apparent within two to three months.
Contact us today at (604) 582-2762 to schedule your cosmetic enhancement consultation with Dr. Adrian Lee.
Visit our plastic/cosmetic surgery office in Surrey, British Columbia (BC) near the Vancouver (Canada) area.